Well after a nice relaxing holiday in Edinburgh and after my Redtooth Regional Finals in Liverpool I actually found the time to play some online poker finally.
The Regional Finals in Liverpool didn't go to well busting out 27th out of 120 odd people but my friend Jason from my local pub was more upset busting out 12th.
I was short stacked for most of the game and eventually shoved to a raise with AQos the guy next to me called and the initial raiser shoved his last 5k in and the flat caller threw in the extra 5K. It was a bit of a mad hand but I knew I was beat when the cards turned over. The initial raiser had AA and the other guy had A5s. A5s busted both of us out by hitting trip fives on the flop.
I then spent the next four days in Edinburgh and had an absolutely amazing time, will try to post a blog this week with pictures I've taken from my time there (no promises though).
Saturday night was simply too tired to play poker but tonight I was wanting a game.
Played two my.888 tournaments ($150 Deep Stack and Sunday League) and didn't just final table both of them but cashed in both as well.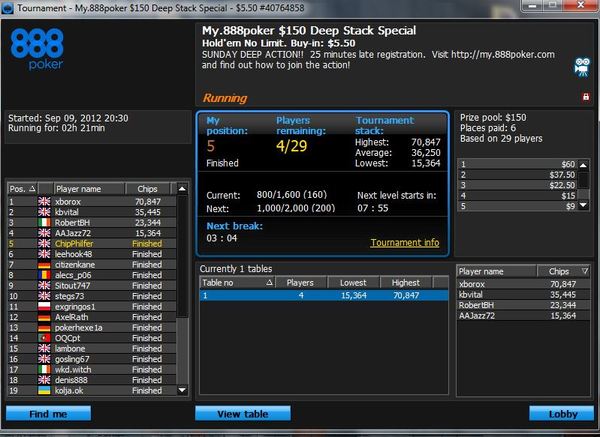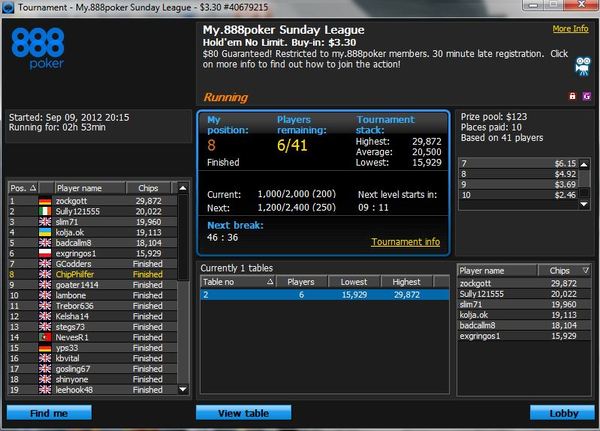 Well I will have to end it there as sadly I have work in the morning (BOO!!!!)
No doubt I will play some more tournaments this week.
See you at the tables.
ChipPhilfer