Sorry it's so long, I hope it provides a few smiles and isn't too boring.
I'll start with a confession.
I've said many times my first experience with poker was only a few
years ago. Well that's not quite true, close enough but not quite
correct.
It was actually many years ago. I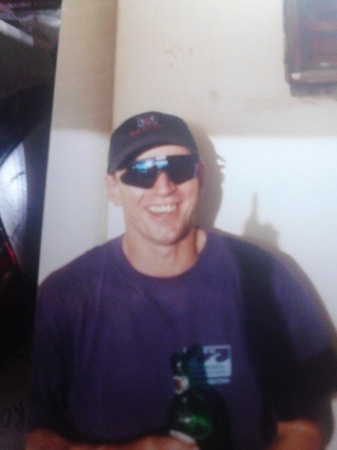 was playing some 8 ball for beers (nudge, nudge) when I ran into an old mate (name witheld) who invited me to play darts against some dart experts for beers.I explained that I'm hopeless at darts and he said don't worry I'll cover any losing bets.  We played many games and we both lost nearly every one.
 I told my m8 to save his money and come play doubles at 8ball and I'll cover all bets and beers. I couldn't understand what was going on as we were in a game we could never win. My m8 was worse at darts than I but could earn a few $'s with a cue. He insisted that we stick at it so we lost a small fortune to those guys.
At closing time my m8 invited all the winners to a home game of poker. I said m8 I've never played a hand in my life. It's ok champ I'll teach you as we go, he said. I'm like yeah ok but we will be playing for money right? Of course, big money but don't worry I'll shout your chips, you keep your winnings minus those chips plus 20% of what you win.
It was an offer too good to refuse and also too good to be true but I
thought I had nothing to lose.
We sat at a professionally felted table, to this day I don't know what variant we played, m8y cashed me up and money was flying around. A few hands in my Buddy leaned over to explain some more about the rules and tried to slip me an ace from his pocket. Suddenly I realized what was going on, why we played darts and why he was happy losing so much money to those guys.
Wow I'm in a tough spot now.
I'm no Angel but the thoughts of smiling at these new friends as we robbed them was too much and never going to happen. I pushed the card away, looked him in the eyes and told him to wake the f up.
I protested, they would have been happy losing at 8ball after darts.
Why are we here if the only way to win is to cheat?
 My m8 encouraged me to play on and said he wouldn't cheat again but
he kept trying to swap cards with me. He was also splashing pots,
dealing bottom cards and only god knows what else. The cards were
probably marked too, who knows. 
I Lied
and told him I was too drunk to play and refused to play another
hand. He begged me to stay so he could recover our losses from darts at the pub. I said stuff you m8 I offered to roll us all night at the pool tables and shout all beers, win lose or draw. He wasn't happy and refused my offer to repay my darts and poker losses if he plays fair or calls it a night. I refused his refusal and stuffed the money in his pocket, I couldn't get out of there quick enough. 
I was sure it had turned me off cards
(WRONG)
for life.
For far too many years, whenever anyone mentioned a card game I would
cringe at the thought and I avoided them.
About five years ago I went to play 8ball in my local pub competition but I saw my 1st Texas holdem poker tournament. The pub replaced the pool comp with a poker tournament. The poker guys wouldn't play pool for money so eventually
I had to learn how to play poker.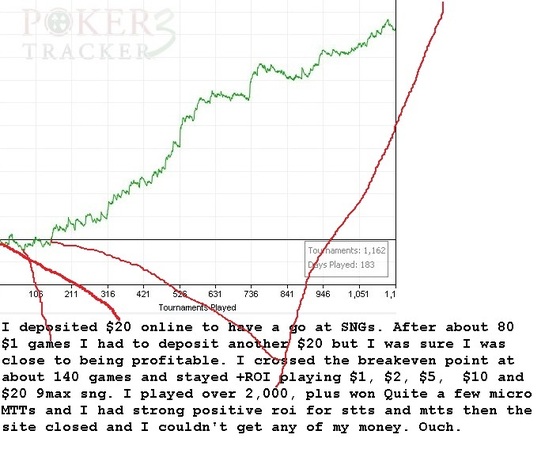 That wasn't  at 888.
Some extremes.
I've read a shipload of books and bought heaps of training software. I"m a slow learner but I have several times even been gifted some brief but very much appreciated private, personal coaching. Generously donated by a few of my hero's with minds so far above me it's a real honor to have brainstormed life, poker and the Universe with them.
The strange.
There is a pro named Stevie Wong who would entertain (smack)the micro
stakes players with a special 1/2 cent table going whenever he was playing his regular games. I had been playing online for a few months (maybe 600 $1 sng and 150 mtt) and decided to try my luck and learn cash table play from him.
The waiting list was extreme too
, almost two weeks of about eight hours
a day. I studied Stevie hard as I waited for a seat. By the time I sat I had seen him play more hands than anybody else I had watched.
I think I owned him hahahaha.  He's a really nice guy so I'm still not totally sure if he allowed me to do better than I should. If not, I suppose it's possible he could remember our one session, it was short but pretty crazy.
 It started at his regular solid abc pace but quickly switched to xyz intense. One of those sessions where you see two maniacs going at it so hard and large that everyone else is just kinda holding back a little (adjusting their deep stack ranges? to almost push/fold?) more than they usually would before getting involved.
 He seemed a bit safe and nitty by my slightly nutjob standard of the day. Cough cough, lol.  He would punish others mistakes by usually having the better starting hand and milking weaker hands if the flop was good for his. He's really more tag than nit but I never saw him get caught 4 or 5 bet bluffing or doing stack off light type of wilder plays.
 I forced him to open his range up a bit and upped the table standard bet sizing so we could both be a little uncomfortable, rather than just me because I was in Awe of him. He's capable of playing a wider range, he just never needed to play anything like loose to cover the blinds at that table before.
 It's not a tournament.
 If I'm honest, He actually forced me to force him as I had so many
times seen how effective his usual game was vs us micro players. He never lost for long and I wanted to beat him, first try. The way he played this table was slow and steady low variance for sure. He couldn't give our table his focused attention, yet he might cop snickers from his higher stakes m8s if he lost more than a few sessions at this table.
It was the only game I was playing and I was fully focused on him. He was probably ten tabling $1/$2 cash tables at the same time, I'm not sure.
 He and I went on a molten lava like heater, we were playing heaps of hands, isolating each other and or reading the other players well whenever they did reluctantly enter a pot. I guess by then they were entering face up. Defining there range so they won mostly small pots and stacked off to us when they lost.. We had unbelievably large stacks and and endless player waiting list. Then Stevie shipped a few big pots, coolers? (I had outs bro) my way near the end of the session too.
.  To top it off I had to rat-hole it, I had a tourney starting at another site.
 Sorry Stevie, I did say I'm no Angel.
Some more extreme.
I can't remember how many times I've had to set my alarm clock for 3, 4 or 5am to play in my favorite 888 online tournaments.
An old pic but I like it.
 I've also been late to work, dinner and completely missed important appointments due to running deeper than expected at times.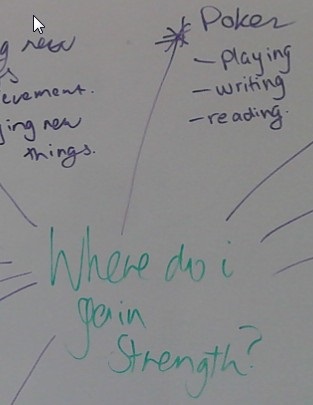 Okay I'm finished, I hope some of you didn't fall asleep.
Good luck to all the 888 August bloggers.