A great idea Awf and has caused me many hours of internal debate. The first one was easy though....


                                              


A fantastic film in many ways, it was made in 1993 and won 7 Oscars including Best Film. It is a wonderful true story of how one man was able to save the lives of many, dealing with a part of history that should never be forgotton. The acting, scenes, script were all exceptional, with memorable performances from Liam Neeson as Oskar Schindler, Ralph Fiennes (who was outstanding) as Amoth Goff an SS Officer, both of who were nominated for Best Actor awards, and Ben Kingsly as Itzhak Stern, Schindlers accountant who drew up the 'list'.


                             
The film is shot in black and white which adds to the feel of the film and you really only notice when a little girl in a red coat comes into scene. You find out her fate because of it.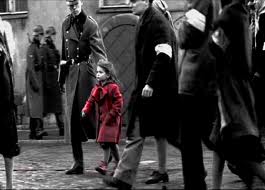 The most poignant part of the film, for me, is the end, when the real survivors portrayed in the film are shown as they are today in the closing credits. Thanks to the bravery, cunning and compassion of Oskar Schindler their lives were saved. It was a part of history worth telling and this film told it well. I dare anyone to have a dry eye at the end.


This is my personal reason why I want people to watch this film.......
At the age of 18 I was lucky enough, and I do mean lucky, while travelling in Poland to visit, Auschwitz. It was one of the most profound moments of my life.   I have walked through those now famous gates and have stood in the gas chambers while a survivor described what happend to the thousands who had stood there before me. The group leaders left suddenly and the doors were closed with a loud echoing clunk, we were left in silence, many looking nervously at the shower outlets above us and I felt fear, fear and panic rising. We were probably left to stand for only a few seconds but it was the longest few seconds I have ever experienced. I can feel my breath quicken as I remember it. Just knowing that where I had stood, thousands had stood before me, in fear and with rising panic, but for them the doors didn't open after a few seconds.
The rest of the tour I still remember vivdly in snapshot form, long sheds/huts with glass panels running full length one side of the walls, behind each were placed different items that were discovered at the time of it's liberation. One shed was full of battered war time suit cases with names and addresses pasted on or written in the owners own handwriting. Another had glasses, thousands upon thousands of them, and another held shoes, mens, ladies, childrens.
The worst for me was the shed that held human hair, a long childs plait, obviously roughly cut at the nape of the neck, was still intact with a rag of dirty ribbon tying its end. Behind the glass and under the lights the beautifull strawberry blond colour shone like a beacon amongst the tons of cut and shaved hair. To this day all I can see in this mind picture is the plait, everything else is a blur. I still think of the little girl, of her mother who may have lovingly braided her daughters hair, her father who looked on as she ran and laughed in a park, her golden hair glinting in the sunshine, of  their life before their final journies came to an end. Still, I silently ask questions I will never know the answers to.
Our tour moved on. We were shown the cremation ovens and the process used, almost conveyor belt style, with our last stop being by a building where hundreds had stood and been executed. The wall pulverised by so many bullet holes it was almost impossible to distinguish one from another with large chunks completely obliterated, chest and head height.
When leaving Auschwitz it was dark and it had started to rain. Our group were the last to leave and I remember sharing the umbrella of the survivor who had escorted our tour as we started our walk back.  He was a lovely old boy, with a real twinkle in his eye and a great sense of humour, I hooked my hand into the bend of his arm. He explained to me the reason that the camp had been made into such a museum was so people would never forget, and in a hope that educating others it would stop such a thing ever happening again, and then he patted my hand. The silhoutte of the gates came into view and we continued on in companiable quiet, the path lit only by the towering lights on the perimeters of the camp, as it would have been all those years ago. The camp was empty, eerie and oppresive. The atmosphere was thick with death and despair which seeped into my pores and my conscience. It has never quite left me.
On the mini bus back to the hotel, an hour and halfs drive, not a word was said. A handfull of happy go lucky 18 year olds, who had started the day without a care in the world, who had babbled with excitement of the day to come, now sat in a stunned, numbed, silence. Some staring out of the windows into darkness, not seeing the rain that ran in rivulets down the glass panes only inches in front of them. Silent tears mirroring the rains paths. One or two sobbed quietly, others sat back with eyes closed deep in their own thoughts. All trying to make sense of what they had witnessed and experienced.
A little red coat and a plait braided from strands of golden hair. No, I'll not forget.