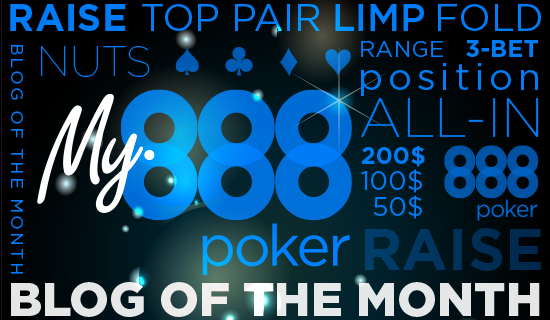 Hi All
Welcome to our first 888 Blog Of The Month Competition.
Each month we will provide you with a Topic, or occasionally Topics, to choose from. This month is a subject we thought would be fun and one all can join in with.
We would like you to tell us who you would invite to join you at your ultimate poker table?
Imagine you are already seated, and looking forward to a great evening of poker. You can summon anyone, literally anyone, to join you at that table. Dead or alive. They don't have to be your favourite or top poker players, either. It could be a politician, a movie star, someone you admire, or someone you don't. They just have to be top of your list to play at your top poker table. 'Anyone goes' basically. Minimum 6 guests maximum 9.
We would love to know your reasons for inviting them to join you to play poker ? You could tell us what style you imagine their poker tactics would be. Bluffer, tight, shark, donk? How you feel their presence would steer the poker banter between you and your other guests, etc. Again, anything goes!
To be accepted as a Blog Of The Month entrant, your Blog must start with this sentence….
My Top Poker Table Players Are…….(after that you are on your own)
Your Blog has to be a minimum of 300 words, and all your own words, no copy/pasting from elsewhere. Full details of the competitions Terms and Conditions can be found here….
http://my.888poker.com/go/thread/view/11...
Please, read before entering.
This introduction is exactly the minimum of 300 words. That is all it takes to get you on the road to some great prizes. So, crank up your imagination and start tapping at those keys.
Good Luck Everybody!