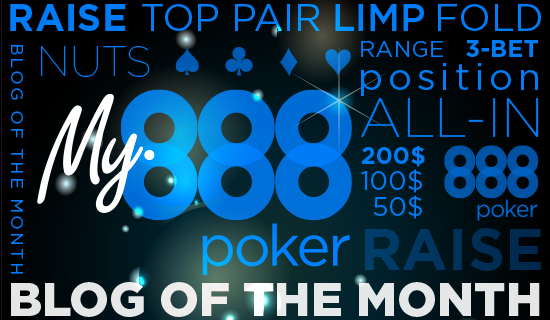 Hi M888's
Here is the subject for the April, Blog Of The Month, competition.
After reading all of the March blog entries, and comments, it is clear that many of you have some very interesting poker stories left to tell, and we want to read them.
So this month, we would like you to imagine you are amongst a group of poker buddies, swapping poker stories in a bar, over dinner, at a party or across the poker table at a home game. What would yours be?
Could it be your biggest win or your worst bad beat? Meeting a poker star? Some high jinks or drama at the poker table? Your most embarrassing poker moment? Your most uplifting poker moment? Characters you have met across the felt?
Perhaps you have a story that will have your peers falling off their chairs with laughter, shaking their heads in dismay or open mouthed with disbelief?
There is plenty of scope this month so if you haven't blogged already, give it a go. I am sure you all have at least one poker related story tucked away that you can tell.
To be accepted as a Blog of the Month entrant..
Your blog MUST begin with the sentence…
My prize poker story ...
Your Blog MUST to be a minimum of 300 words, and all your own words, no copy/pasting from elsewhere.
Full details of the competitions Terms and Conditions can be found here….
http://my.888poker.com/go/thread/view/11...
It is important you read these before entering.
This introduction is exactly the minimum of 300 words. That is all it will take to get you on the path to some great prizes. Limber up those fingers and get tapping those keys .

Good Luck Everybody!
PLEASE VOTE FOR YOU FAVOURITE BLOG BY CLICKING THE 'LIKE' BUTTON UNDERNEATH IT!!!