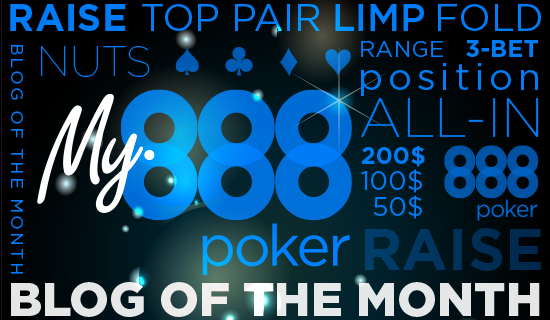 Hi M888's
The subject for the June, Blog Competition is a simple one…..or is it?
Tell us how the game of poker has changed your life?!
There are many examples, in the 888 community alone, that show the affect a simple game of cards has had on players' lives.
The most obvious of these, at My.888, are the strong, supportive and lasting friendships made through the online community, cemented further by meeting at the Birthday/Community Bash and other live tournaments won through 888poker satellites.
The, Web cams (aka PokerCams), have proved to be responsible for several romantic relationships sparking up across the virtual felt, where like minded people with a love of poker have found the perfect partner (in love).
On the flip side of that, poker can also be the cause of a relationship to flounder and fall by the wayside. One partners growing obsession/passion for their new love, poker, with the exclusion of all else, has seen poker widows/widowers packing their bags and slamming the front door behind them.
888poker players have found themselves travelling all over the world, to countries only dreamed of, all due to investing just a few dollars in an early satellite. Some have never flown before, some have never played live before and many find it an experience they want to repeat as many times as they can.
For those who have that poker brilliance we all strive for, it has provided an additional income, helping to pay for family holidays, a new kitchen, household bills etc etc…the list is endless. A few have given up the day job completely and are successfully supporting their families through poker alone.
Some have been ruined by it while others find solace and companionship.
These scenarios and many more have changed peoples lives. How has it changed yours? Enquiring minds would like to know.
To be accepted as a Blog of the Month entrant…
Your blog MUST begin with the sentence…
The game of poker has changed my life…..

Your Blog MUST be a minimum of 300 words, and all your own words, no copy/pasting from elsewhere.
Full details of the competitions Terms and Conditions can be found here…
http://my.888poker.com/go/thread/view/11...
Please read before entering the competition.
Good Luck Everybody!

PLEASE VOTE FOR YOU FAVOURITE BLOG BY CLICKING THE 'LIKE' BUTTON UNDERNEATH IT!