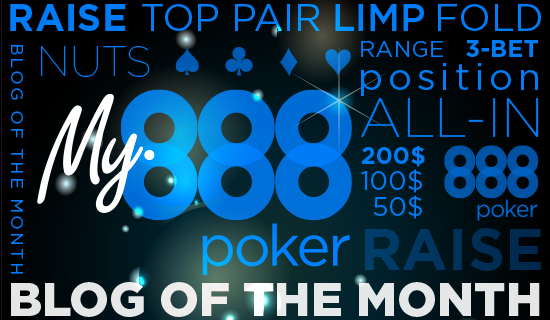 Hi M888's
I imagine this months subject will provoke alot of thought and consideration.
What does my poker game say about me?
There are many different variations of the game of poker, and many different ways to play each of those variations. You only need to look at the tournament list on offer at the WSOP in Las Vegas -: along with the well known Main Event Texas Hold'em, we have Omaha with all it's Highs and Lows, Seven Card Stud, Low Ball, Razz and H.O.R.S.E to name but a few.
We can play the game at different speeds and stack sizes, cash or tournaments. There are Deep Stacks, where we can take our time and really get the feel of the game, Turbos, to crank the pace up a bit and Frenzies where it's ok to go completely crazy. We can Sit N Go. Show or Snap. We can become Bounty hunters, or play for a team.
What we want to know is what games have you tried? Which ones have you disliked and which style/pace is your favourite? Do you play certain games depending on your mood or circumstances? Why? Are you after a chill time or a buzz? Do you think certain personalities are drawn to or more suited to a particular type or form of the game?
What does your favourite style say about you and your character?
And finally, we would like you to finish your blog by defining a poker game that would combine all the elements you enjoy; from the different forms of poker you have played or watched. Stamp your personality and concept on it, then give it a name. In other words, create your perfect poker variation!
One of my personal favourites is Crazy Pineapple. Whoever made that one up was most certainly Crazy, but also wanted to add a lot of fun to the game. What type of poker game would your creation be?
To be accepted as a Blog of the Month entrant…
The TITLE of your blog MUST be...
Poker, Personalities and Perfection.
Your Blog MUST be a minimum of 300 words, and all your own words, no copy/pasting from elsewhere.

Full details of the competitions Terms and Conditions can be found here…
http://my.888poker.com/go/thread/view/11...
Please read before entering the competition.
Good Luck Everybody!

PLEASE VOTE FOR YOU FAVOURITE BLOGS BY CLICKING THE 'LIKE' BUTTON UNDERNEATH THEM!