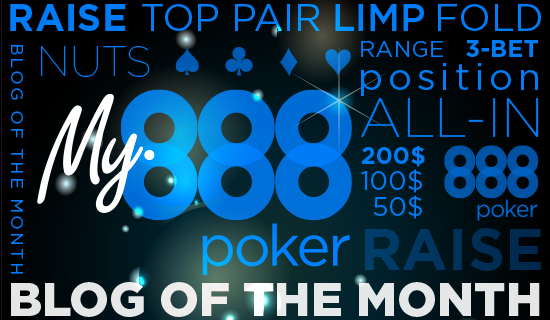 Hi M888's
There will be some of you who intend to wait for decisions regarding the voting/judging system before putting time and effort into your Blog. No problem, I totally understand. But for those of you who wish to blog regardless and are happy to continue just for the fun of it I hope you will find this months subject enjoyable to write and for others to read.
So, as planned, here is the subject for the August My.888Poker Blog Competition.
Due to many of you finding last months subject a tough one to relate to, well done to all who attempted it, we decided to lighten things up this month and ask you to delve back into your personal poker experiences and tell us….
To what extremes have you gone to in order to play a particular poker game?
And, or…
What are the strangest circumstances you have played poker in?
One or both is fine.
It's that simple.
Most avid poker players will go to certain lengths not to miss their favourite poker game, a target game you unexpectedly won a seat for, a league game you can't afford to drop points in, etc….
Modern life, work, holidays, family and friend commitments can sometimes get in the way. We want to know where, when and what you had to do to ensure you didn't miss that game. The one that was more important than what ever else was going on around you at the time.
Over the years I have heard tales of games played hiding under stairs, in a church while attending a wedding/funeral, in the garden at parties. One member had to hike miles to find a signal during a camping holiday with his family. Luckily he found it in a cosy country pub! His 'significant other' was particularly unimpressed when he returned several hours later and very much the worse for wear. It was a long game.

Other stories have been of impromptu poker games starting up under the strangest of circumstances both at home and while in foreign lands. Language and surroundings not being a barrier to a great poker experience.
And now to the ultimate extreme and the poker confession box …
Have you lied to get yourself out of a commitment/go AWOL at work for a while, only to be found out? Caught 'red handed'' so to speak! A♥  A♦
How did that work out for you? What was the lie? How were you caught? Are you, still together/employed/forgiven?
There you have it. Plenty to choose from and I hope a fun and not too taxing subject to get your fingers tapping those keys.
Your title this month is…
Strange Poker, Extremes and Confessions.
For those new to the Blog Competition please be aware….
To be accepted as a Blog of the Month entrant…
The TITLE of your blog MUST be...
Strange Poker, Extremes and Confessions.
Your Blog MUST be a minimum of 300 words, and all your own words, relevant to the topic explained above and with no copy/pasting from elsewhere.
Good Luck Everybody!

Prizes to be confirmed at a later date.