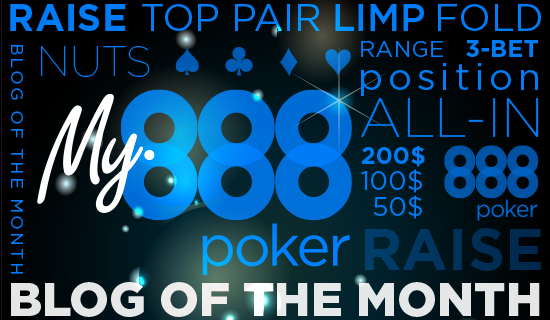 SEPTEMBER 2015 BLOG COMPETITION INTRODUCTION
Hi M888's
This month's subject is all about memorable poker hands.
Poker players will gain experience over the many months and years they dedicate to the game. This experience is a direct result of the hands played. Hundreds of thousands, even millions, of them. It would be impossible to remember them all.
The big winners will stay with you, and when recalled, take you back to that delicious moment of elation. You did everything right and you won! Woohoo!
But, there will also be one or two that never let you forget them for a different reason. Yes, the hand/s that haunts and taunts you. The one that went horribly wrong and still makes you grimace each time that particular memory rears it's ugly head again!

It is these hands we want to read about.
In my own experience it is not the 'bad beats' that cause me to cringe when remembered. I may have done everything right and still lost. That's part of the game and the memory of it dissipates in time.
No, it is my own mistakes that haunt me. These I can replay card by card, thought by thought. Forever embedded. I know where I was, who was there, what I was thinking, and that awful moment of realisation that I had made a terrible decision. Even though this hand was years ago, it still makes me shake my head in disgust at the way I played it. All I will say is, it was a BIG game, at a crucial time, and if played correctly would have had a far happier outcome.
So, what hand/s haunt you and why?
As always, we want the full run down. Where you were, how the game had been going until 'the hand that haunts' showed up. Who was in the hand etc., etc. Most importantly, we want to know your train of thought as the hand plays out. Did it effect the rest of your game? What did you learn from the hand?
The title of this month's Blog Competition is..
The Poker Hand/s That Haunt Me…
For those new to the Blog Competition please be aware….
To be accepted as a Blog of the Month entrant…
The TITLE of your blog MUST be...
The Poker Hand/s That Haunt Me
Your Blog MUST be more than 300 words, all your own words and relevant to the topic explained above. No copy/pasting from elsewhere.
Good Luck Everybody!