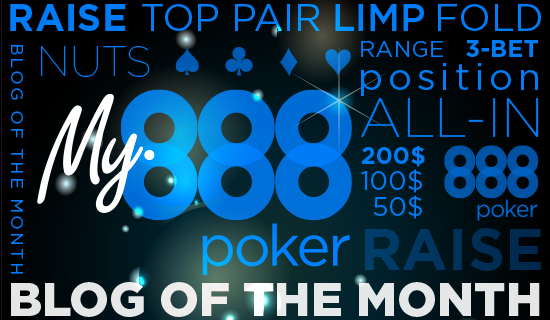 My.888poker Jan/Feb 2016 Blog Of The Month Title Introduction
PAST. PRESENT. FUTURE.
Just over two weeks ago you may have joined in with the tradition of making New Years Resolutions.
If so, are they poker related or personal?
We want to know what they were and why……and how it is going for you? Did you set goals? Or intend to improve some aspect of your life in general?
Are you still standing steady with steely confidence in your will power? Or have you already failed miserably at the first hurdle?
Have you tried and failed before? What happened? Are you determined it will be different this time? How will you ensure your success?
Tell us the Past…Present… and Future of your resolution/s?
What prompted it, how it is going now and what you hope to achieve in the future if you are successful?
IMPORTANT INFORMATION
1. Title -
Poker (or Personal) - Past. Present. Future
This is particularly important. It will alert me that it is a competition entry and not a blog posted in general.
2. Word Count-
Minimum 500 Words.
3. Content-
Consider the brief carefully and stay on topic.
4. Pictures-
Are welcome. Any copyrighted material will be politely requested to be removed.
5. Closing Date -
Midnight (GMT) Monday 29th of February.
6. Thread Announcement
Post your 888 username in this thread to alert me you wish your blog to be considered for entry.