I remember well that I started tagging people when I was in first grade.I loved to tag people and to give people nicknames, it was something I found very funny back then and I find it very useful today.
One of the first persons I have put a tag on was my first grade teacher, she was lovely, one of the best persons I have met in my life.All the kids wanted to be near her, she was very kind to everybody, always there to help and to take care of our problems.
Even if I was upset or sick before school everything would go away when she entered our classroom, she was like a sun beam, I was happy just to see her and to know she is near me, she was so kind to everybody and we all keep only happy memories with her.I have tagged her as a fairy, and all my memories with her are like a fairy tale.
Maybe you ask yourself, what has this story to do with using tags in our poker grind?Well, I will try to correlate some persons that I have met in my life with the tags I put to poker players online, sadly I have to correlate my beloved teacher with the fish in poker.
I imagine myself sitting at a nine handed table and the next big blind gets moved to another table and a new player joins my table, a player who I have a fish tag on him.
I suddenly feel happier, I want to be around him, I want to be involved in as many hands as possible with him, because he is the fish.He is the one that flat calls my raises with junk hands, he is the one who almost never raises or reraises, he is the one who hits bottom or middle pair and goes all the way to the river and pays me on each street, he is the one that is always chasing straight and flush draws.He is the one that in the first levels goes all in preflop with pocket Kings or Aces and the most important thing and that is why I have correlated the fish with my lovely teacher, in 90% of the hands you play against the fish, he will not do you harm, if he doesn't get very lucky he will always contribute to your chip stack increase.


Another person I have put a tag on was my english teacher from second grade.I really can't find the right words to describe her, but I can tell you that I have tagged her as a witch(not our beloved witch…hehe) and her nickname was Cruella:)


It was a traumatizing experience for a bunch of kids to be forced to learn perfect english grammar and pronunciation in second grade but she didn't cared, she just wanted to teach us perfect english at all costs.
I had english classes twice a week, and I have to confess that nothing scared me more than my english teacher, I would prepare my homework two days before the english class and I would always double check it with my mother to be sure that I will not have problems in classroom.I was always preparing my pronunciation in front of the mirror for hours and I still wasn't happy, I knew she will surely had something to object about it.Honestly, I never felt prepared when she asked me to stand up and present in front of the class what I have prepared, although I was very good in english, I was sure that she will put me in a tough spot, a thing she really loved to do.
One could never be prepared enough to face her, she always found some mistakes in our grammar or our pronunciation was too poor for second grade, we would even joke about her that her only two friends were english grammar and pronunciation.
We were all like scarred puppies in classroom, nobody wanted to be in front of the class because that meant only problems.
Returning to poker, I could only compare my english teacher to the shark.When I play poker and I have a player at my table that has the shark tag attached to his name I never want to get involved in a hand against him, except the case when I have a really strong hand or a made hand.Even with a premium hand preflop I never feel comfortable in a hand agains the shark, if I don't hit big on the flop I feel he could easily outplay me or he could always put me in a tough spot and sometimes I would even have to fold the better hand against the shark.
The shark is a poker nightmare, he takes the most advantage from his position, he never gets involved in big hands out of position, his bet sizing is perfect, he can make you call with the weaker hand or to fold the better hand by putting pressure at the right moment, he knows how to set a trap and is a master of bluffing, he knows when he is beat and never gets married to his hand, even left with few chips the shark doesn't give up, he never goes all-in just for the sake of it, that's what the shark tag means in poker for me.
One of the highlights of my childhood was a cartoon that I think you will all remember, Wacky Races.It is probably my favourite cartoon of all times especially because of the main character, **** Dastardly and his companion Muttley:))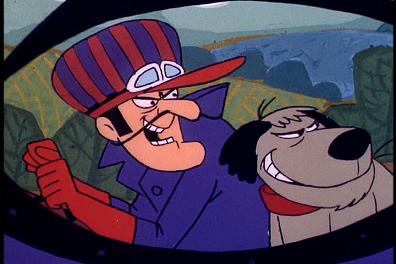 Although he never managed to win one race, he was always in the lead until he would dig his own grave and finish in the last position.He was all the time with one step in front of the others but eventually he got trapped in one of his own traps.This cartoon was very educating, kids would learn that they should always play straight and never try to cheat others.
As a little girl when I wanted to insult somebody or to make them understand how dumb they were I would just call them Dastardly, for me he was the perfect example of stupidity, no matter what you did, you could never go beyond the master of stupidity and deceiving.
Let's get back to poker now…On your marks, get set, go…Here comes the donk.
I could not find a better character to compare it to **** Dastardly than the poker donk.The donk has a licence to spew chips, he is even worst than the fish, he never cares about playing in position, he plays a couple of hands and after he gets bored and wants to double up or just bust out he shoves all the junk hands, one example I have seen last week is the perfect donk play…One player raised from early position and another one went all in from middle position and the donk in late position went all-in for all this chips with KJ off suit, of course he was up against AK and AA, but he never cared, he was happy to be all in with a junk hand, the donk needs adrenaline, he needs action doesn't matter the consequences, but sometimes the donk is slowplaying, he is trapping with pocket Aces by only flat calling from late position with 4 limpers before him, and he gets beat by 97 suited or by J9 off suit because they hit two pair or a straight, he then starts to berate his opponent for playing like a donk or even better, he starts insulting everybody at the table.
The donk wants to trap his opponent when the flop has three cards of the same colour and he holds a big pair in his hand but none of his cards have the same colour from the flop, so he just checks the flop and when a fourth card of the same colour comes on the turn and he is drawing dead then he starts betting or he goes all-in, and after losing he wonders why his opponent called him with a made hand.
The donk is the worst of all but if he gets lucky, he can beat even the sharks, but that happens very rare so in general the donk will always take care of your chip stack "health".


There are two categories of players for which I would like a new tag to be added…First is the river rat, lately I have seen players going all-in and hit their magic card on the river, their two outer or gutshot card was always on the river and it happened three or four times in the same day, I hate this situations and what I hate even more are the river rats.It seems that this things happen so often that we should really have a tag for the river rat.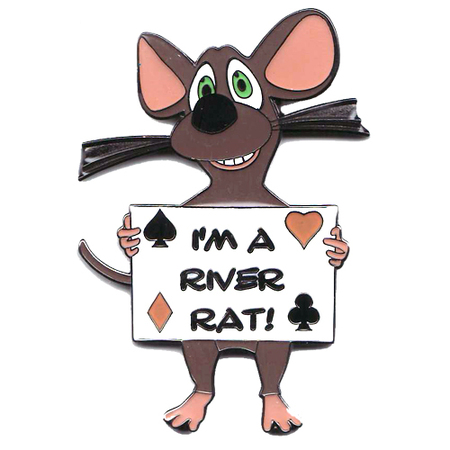 Another player I would like a tag to be added for is the type of player that abuses the bubble play in a tourney.We have all been in this situation, when playing tournaments and we all want the same thing on the bubble, we want to make it in the money.
Unfortunately we always have a big stack at our table, that plays like a bully, raising every hand or going all-in all the time.It doesn't matter for him, he has a big stack, he can't bust out, even if he loses a hand or two he keeps doing the same thing, all you can do as a short stack is to get out of his way and hope that the money bubble bursts soon.
This type of players get called in different ways, poker bullies or maniacs, I call them poker jerks.Do you think I am right?Should we get a new tag for this type of players?