Hi All,
I'm late with this blog, think someone must have spiked my tea at the Bash.
For those reading this and thinking 'What is this Guy on about?' I will give you a short explanation.
A few years ago when there had been some bad weather (snow storms) some of the forum members couldn't get to work or even out of their back doors so they posted 'How about a Game'. Tony (Aegis) the then Forum moderator got straight on to it and arranged a game. The next day the weather was the same so Tony put on another. This gave Tony the idea of making this a permanent game and turned it into the Morning League. After Tony left 888 I took over running the league and as forum members will testify I tend to bang on about making a pot of tea at every break in a game. So when we had our first forum Birthday Bash a couple of years ago it was decided we would start the weekend's fun with a live morning league game. I said I would put up the trophy for this. I bought a tea pot and had it mounted on a rosewood base and kept it a secret from the members until the game was finished.
Malc (Malcolm) won the game and came to the front to get his prize. It was then that I produced the Teapot trophy to great laughter and applause. We played that game in the hotel where money was not allowed to be played for so there was no buy in. I told Malc I had put a little something in the pot for him to get a drink with. Malc said 'Oh Great' and looked in the tea pot only to find 2 teabags LOL.
Well that was the start of what has become the most sort after trophy on the my888 forum.
This year we had a record number of players turning up early to the bash to make sure they got in the morning Tea Pot game, all proclaiming the teapot would be going home with them. What a crazy lot you are, LOL. This year's game was the best one yet. My good friends Rick (paralada) and Jack (papajack) had flown over from Canada for the Bash and were in the game. The dealer's face was a picture when I told him Jack and Rick had flown all that was for a chance of winning a teapot. Also in the game was Neil (Slim) who had interrupted his holiday in Spain and flown in to make sure he had a chance of winning the esteemed teapot. Like I said this lot are crazy. This year not only did the winner have a chance of winning the acclaimed teapot but also a ticket to the Irish Deep Stack in August, kindly donated by Jenny(Gosling67).
Second place prize was a crystal scull filled with tripled distilled vodka, generously donated by Rick (Paralada).  
Third place won some vodka and chocs, courtesy of Malc. After a few hours of laughter and hard fought poker we had our first ever lady winner of the trophy – Judy (Judith).
Judy is a great player and a worthy winner, who will give everyone in the Irish Deep Stack a run for their money. Good Luck Judy.
The vodka Skull for second place went to another lovely lady, Cheryl (Deekroe) who I'm sure will be sharing it with her bezzy M8 Sharon (Kelsa14). A very worthy place for the vodka to go, boy oh boy these two girls know how to party, LOL.
Third place went to Steve (Madden102), well played Sir.
All's left to say is a big thank you from me to Jack, Rick and Neil, for making such an effort to take part, Tony for dreaming up the morning league in the first place and last but not least Sean and Amanda and 888 for all the free tea we supped, cough, cough LOL.
PS If you too are a bit potty and would like to join in all the fun with this crazy lot then join the my888 poker forum by clicking this link.
http://my.888poker.com/go/forum/viewboard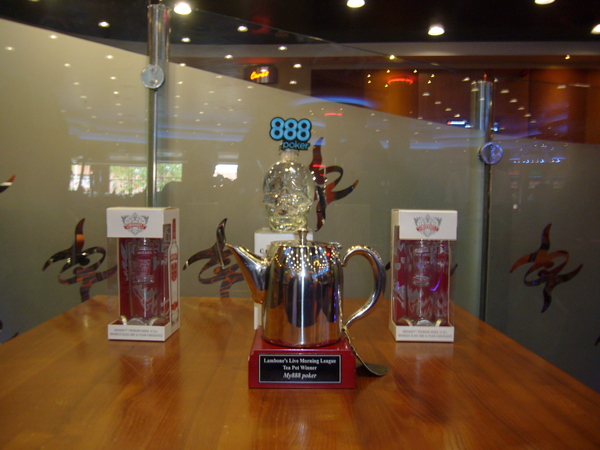 Judy (Judith).





Cheryl (Deekroe)




Steve (Madden102),