God not again I moan
, sweaty sheets tangled around my legs, persperation sheening my body as I thrash around my bed. Here I go again playing the cards that I tell myself I should fold.
I awake from my nightmare
but the cards are still dancing around my head, laughing at my foolish play yet again! Taunting me, with "you never learn do you Rhonda? Do you think you're better than Doyle Brunson the master?" Of course not I whimper, I just thought it would be different this time! Even Doyle Brunson folded these two cards.
" You're so stupid,
you never listen, no matter how you play the cards you cannot ever win with them" Time and time again the words taunt me. I take no heed of the post it notes attached to my computer. I'm dealt the cards and groan in despair, oh my God not again, just fold them DO NOT PLAY THEM under any circumstances. BUT no, this time I think it will be different, I think I know better, and so I play my worst nightmare. Heart racing, beads of persperation on my brow, ignoring the feeling of dread as I look at the cards.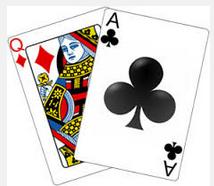 T
hese two cards
are my nemesis. I cannot begin to tell you how many tournaments I have gone out of, playing these two cards. ACE QUEEN. They should be removed from the pack, or on being dealt them I should be allowed to be given another two cards. I would rather be given 2 9 to play with, anything but not Ace Queen
A player and I
had a debate regarding the play of these two cards. He told me "they are Anna kournikova!" Having never heard the expression I asked what he meant? To which the reply was "looks good but doesn't actually play well"
It doesn't matter
, whether I slow play them, move all in or raise they get beaten each and every time.
AND guess what
if I don't have them, then I usually go out against them! One time I reached the final table when, myself and another player both had ace queen, and his queen made the flush, to take me out of a tournament.
Last night I played
in a cash tournament and was doing nicely, and sat in the money position. I just had to be careful, and was guaranteed a pay out. There I was bragging to my partner about how well I was doing, sat 17th with less than a hundred runners in the tournament, and that I would cash. Busy bigging up my play, I looked at my next hand. Well of course my worst nightmare was dealt to me,
Ace Queen. Shaking, I start
groaning, please no not this time, keep calm, its just another hand, I tell myself! I was in mid position, and the player before me raised. I watched the timer run on the screen whilst I debated whether to play or fold. I glance nervously at the Stickers littered on my screen saying FOLD ACE QUEEN DO NOT PLAY ACE QUEEN.
So ignoring
the good advice I called. Hell there on the flop is ACE QUEEN and a two. I now have two pair, and in a really good position. I had been watching the table and figured I was up against a mid pair pre flop. And a beautiful rainbow flop, so even less chance of a flush. The player pushed all in , and having looked at my post it notes telling me not to play, I said
I KNOW I AM IN
FRONT
, so
I CALLED.Smiling
I
was
ahead, he had turned over a pair of fives. Finally my ace queen would hold up, I would overcome my Trojan horse. I was celebrating, I would double up and move right up to being in the top 10 places. Fourth card came, I was still ahead, heart pounding I could barely look at the next card. BUT alas it was not to be. I wanted to cry, I felt sick, why had'nt I just folded? There it was in all its a glory, a five, nailing my coffin fully shut. He rivered me with a 5, yes an itty bitty 5! Giving him a set and I again was out of yet another tournament!
And so again I failed
to take notice of all my warning stickers, where ace queen is concerned I find I have absolutely not a single shred of discipline.
I
have even
folded aces on the flop! Having marked my player as a rock, when he pushed I folded my aces on the flop, and he showed me a set of Queens. Now that is discipline, not many are able to lay down aces. I have so many times beaten aces, when they have been slow played. One of my earlier Bloggs told of my flush against aces. Yesterday I had a straight against aces. So I know for many players, Aces, Ace King etc are disliked. The Jokers in the pack!
So this months moral
of the story is listen to your gut feeling, take heed of your notes, and you just might make the final table, had you have practiced discipline.
Thank you again
for taking the time to read my Blogg, and if you liked this please press the thumbs up.