Trembling with anticipation, I can not believe that I have just landed in Vegas, the most crazy wildest place on the earth where dreams can really come true! Stepping off the plane, the first thing that hits you is the intense heat, wrapping its warmth arouind you, reminding me, yes I am really am here. I have travelled light, having clearly read the instructions on my qualifying ticket!
Fighting through the bustling airport I find my way to the exit where a coach is waiting to pick up the 888 players that qualified for the 888 crazy eights tournamnet. There are 40 of us babbling all at once, still not believing that we are all here. Every one beaming, laughing excitedly, me still shaking in disbelief. My dream has come true, playing in vegas, but also my first ever live game! I am apprehensive. Will I remember what I am supposed to do? Will I make stupid calls or will I be aggressively tight not wanting to be embarrassed getting caught calling a stupid hand?
Our bags are stowed and we take our seats all gazing out of the windows ready to catch the sights that tell us this is vegas. Everything is a blur, I dont remember how I arrived at the hotel, just bright colours all merging into one, as I press my nose against the glass window as the coach pulled into the Rio for the start of my game!
The noise is over whelming every one pushing towards registration eager to grab passes, and taking in the measure of the "competition". One declaring loudly that he loves 7 5 and has won lots of poker games calling with these two cards! Smiling sweetly I tell him "not the two cards I would ever play unless on the blinds and had no raises!" He is wearing over large dark glasses and a baseball cap, and tee shirt bearing the slogan " I've done vegas and kept my shirt" Good for you I smile.
We take our seats and play starts. I make a stupid call, berating myself, calm down or you will never survive the day, I tell myself. I have short stacked myself within the first 2 hours. I tighten my play and slowly start building my stack again. At the end of day one I find to my shock I am still in play and can't wait for day 2 to start. I return to my room too excited to eat, nor see the sites of vegas. I don't want to over sleep and find I have missed the start of day 2.
Day 2 passes quickly, and I have still managed to remain in the tournament having taken out two players and trebling my stack. I have posted on face book and twitter, text every single one of my contacts telling them my news. I look at the posts I receive back, every one wishing me luck for the final day. I spend a restless night going over my game strategy, do I loosen my play? Limp in ? Remain tight? No, just play each hand as you think fit. No breakfast, I think I would throw it back up with nerves and excitment. My hands are shaking this is it I tell myself, taking a deep breath I hurry down to the lobby ready for the last day of play. The last hundred players all standing in the lobby waiting for play to commence. I spot Mr Baseball cap and glasses still wearing his Tee shirt lounging against the wall, feeding a slot machine. "For luck" he says. I smile back and being gracious wish him the best of luck. Finally as we are all getting restless, and wondering why play has not yet commenced, 888 Poker Manager Sean appears and holds up his hands asking for a few minutes of quiet whilst he has an anouncement to make. "At 888 Poker we play different, and today is no exception, our final games will not be played here, so please go out side and take the coaches that are waiting for you"
Everyone starts talking at once, what is going on? We are pushing and asking questions, but Sean just smiles and repeats "we play different"
The natural sunlight is bright, after the last couple of days sitting in unnatural light, I struggle with the brightness, and I grab my sunglasses. Outside are several coaches each with a driver who looks amazingly like Elvis. Elvis is to chauffer us to our final destination. We climb aboard still asking questions. Laughing, a few players start singing Viva Las vegas.
The coach moves down the strip passing the world famous casinos and starts travelling out of Vegas. I spot a sign for route 93, what a site seeing trip? Surely not, this is the final day of play! No one still knows what's going on. We pass Boulder city and the Hoover Dam, the blue water looking increasingly inviting in the heat and yet we still keep travelling on.
As the coaches finally come to a stop, none of us can believe what we are seeing. There on lake Mead is a paddle steamer, bearing 888 banners and flags, gently billowing in the breeze.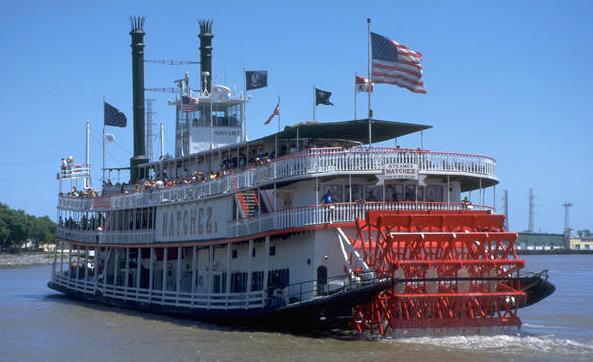 "Welcome to your home for the final day of play," says Sean smiling broadly. "As I said 888 do things differently and we are about to make history. It is believed that poker spread across the USA by poker players playing on the old paddle steamers. So today we are going to re create that experience. The boat will start in Lake Mead, and follow the Colorado River. The final table will be played with the Hoover Dam as its back drop. 888 have arranged traditional wild west outfits, and once you are all changed play will commence" Sean indicated that we all hurry as the boat was waiting to start its journey. Did I hear him correctly? Recreating history? What genious thought of this idea? Playing poker on a paddle steamer, with the Hoover Dam in the background. What fantastic publicity for 888 and the world series.
As I take in the scene, I cannot begin to describe my feelings. blessed, euphoric and over awed still don't tell the whole story. A room full of players wearing traditional wild west outfits seated at tables, made the hairs on my arms stand. I felt proud to be an 888 player, this certainly was a different way to play.
As the day progressed and the boat sailed towards the Hoover Dam, there were now only two tables still in play. I was still there along with "Mr baseball cap, glasses and Tee shirt", only he was now sporting a sherrifs badge along with his cowboy hat and boots. As slowly players knocked each other out, my heart thumping I was now sat on the final table. I was sure they could hear my heart beating with excitment, taking deep breaths I reminded myself to play my way.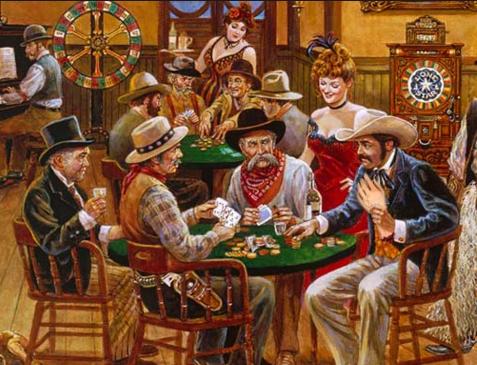 I had made the final table and would make some money, that was all I ever wanted, a final table somehwere in a vegas game, my dream had become reality.
But I had done better than somewhere in Vegas. I had made the World series games.
The play had tightened up on the final table, and everyone was holding onto their chips, determined to walk away with 888's final prize. I looked down at my cards, I had aces and raised to half my stack. Trying to avoid eye contact. Could they read my face, did they know I had aces? Would anyone call such a large raise? Mr "Cowboy hat and glasses" called me. There on the flop fell Ace Five Five. I had flopped the full house. I was a certain to win, if he had called me with 7, 5 he had a set, so I pushed all in. I winked at him and I held me breath as he turned over his 7, 5 revealing his set! He could'nt win. Fourth street came, a king, and there on the river fell a five! He had knocked me out with quads. He lifted his glasses,
returning my wink, he said "I always call with 7 5, its my lucky hand.
I should have known, but there was no way I could have folded a set on the flop. Of course I wasn't happy, that he had called with his 7 5, but do you know what ? It has been the most amazing time and experience of my life, one that could never ever be bested. I had cashed, I had done "Vegas", 888 had been true to their word, "we play different" No one would ever be able to match this final series.
It was my final eveing, I arranged a helicopter flight over vegas, taking in the lights. I wanted to spend a little of my winnings. We flew over the Bellagio fountains as they danced to their own tune in a display of glorious colour. We took in the site of the Mirage Hotel's volcano, shooting its fire and smoke into the air. We passed the stratosphere tower and landed at my final destination for the eveing. I was taking in a show, where I was to watch Penn and Teller whilst enjoying a steak. No champagne for me, I would rather have a glass of good white wine. The act was amazing, how on earth did that Bullet pass right through the playing card and land in his coat pocket? Well we will never know!
As I said good bye to vegas, I vowed to come back, play a little poker, and site see, but at a leisurely pace the next time I visit Vegas. As I boarded my flight home, I received a text, giving me a link to my local newspaper, telling of the fantastic 888 game along with my own name in print. History had been made with the wonderful change of venue for the final day of play. That's when I realised, I now too, was in 888' s hall of fame.
I had played different, of course, I was on a table with people, and not looking at my computer screen. I too now have my own slogan T Shirt,
At 888 I played different WSOP 2016.
Thank you for reading and sharing my experience, even if it is only currently a dream!