To have cart blanche with a poker site would be amazing, to be the best you would need to attract the players, but also maintain a profit in order to continue to survive and generate new players. So it would have to be a balance between rewarding, attracting and retaining players.
I want my players to know that they are important, as without them there is no site. No one needs too many fancy gimmacks, just to know that my site doesn't tolerate cheaters. So everyone feels that their hard earned cash isn't being gobbled up by coluders, and that everyone has an equal chance to win.
All new players will have to, on opening an account being fully vereified with ID and a Valid address. So when a player is sat on a table, hovering over his name will show the town he comes from. You can chose your own avatar, by uploading one of ours or one of your own.
I won't have a chat bar on the tables, but there will be a live lobby chat bar. So if you wantt advice tips or just want a genereal coversation then this is where you can do so. This will be monitored by our team to ensure it remains friendly!
No software will be able to be added, so that every single player is playing from a level playing field. In live games they don't have software to help, just skill, which is what I want to encourage.
There will be an automatic tagging system, which everyone can see. So this means you can look for the donkey and fish players. This to can also work to your benefit, helping you to improve your play, watch yourself go from a fish to a Shark, as your play improves. To help with this we will have a monthly live coach from a pro player, for which all players can watch, and as it will be interactive you can obtain the best tips and advice. Or remain a fish player, taking in unsuspecting sharks! But to do this you would also still have to play like a fish on a regular basis!
My site will be easy to navigate, and will also contain a player search bar. This would allow you to find the fish/donkey player that usually manages to pay you, and so you can join his table.
We will have every type of poker game, including poker scrabble, for the player that wants to try something different.
AND SO TO OUR EXTRA SPECIAL GAMES...........
For the late night player, who wants a little extra, we will have a monthly live topless dealer. Not being sexist, but its a way of providing a "keep you awake" and playing at 2.00am to 5.00am! minimum table bets wil be £2 Get titilated with our lucious ladies! Mind you don't get distracted.
For our web cam games there will be a live dealer available.
Once a month I will be hosting a celebrity player tournament. Play not just against a pro player, but also perhaps one of your admired film stars or sporting stars that also likes to play a game of poker. The bounty on their heads will be £1000, and entry will only be £10. I want this game to be affordable to all player, and to encourage the fun and "awe" aspect to the poker game. There will be a minimum of 5 celebrity players , to encourage more people to enter.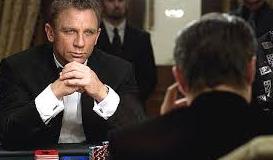 We will have a monthly bad beat tournament. Our software will automatically offer you a ticket, once you have encountered a real bad beat.
There will be an annual guranteed £100,000 tournamnet, to anyone that has deposited more than £1000 over a 6 month period. This will always be played 2 jan, to help players get over New year, and perhaps give a good bank roll start to the year.
Local tournaments, mean just that, and only valid to the player from the country that is running our specials. This will then give the winners entry to a live tournament in their country hosted by a pro player, and the odd celebrity added for additional Kudos.
None of my games will have a late buy in period for more than 1 hour for the larger buy in stakes, and a max of 30 minutes for the small buy in tournaments.
Then ther's my annual loyalty free roll! Open to all active players who have been playing for a minimum of two years, regardless of the size of stake that you play with. Guaranteed first prize £1500.
BATTLE OF THE SEXES
For added fun, we will hold this tournament monthly. There will be two games played, one for the men and one for the ladies. Buy in will be £5. The last 4 remianing players from each gender will go on to play a final table, to see who is the better player! With a guranteed £100 first prize, and only the last 10 are paid. All surplus funds from each monthly tournament will then roll over to our
annual Battle of the sexes
tournament. Each monthly winner, along with a runner up from both games, will then play our annual battle of the sexes event. Last table only paid, with the winner collecting cash as well as our silver battle of the sexes trophy.
COMPLAINTS
I want my players to know that they come first! My site will have live web Chat, and I am so convinced that complaints will be resolved within 48 hours, that if I can't achieve this I will give you £50 and a ticket to a tournament. All emails will be responded to on the same day that they are sent, and a toll free telephone number will also be provided.
REWARDS
Everyone will earn a small amount of rake from each pot that they win. The rake can be cashed out monthly, no minimum amount. Or used to purchase torunament tickets.
My theme will be a Sea world, where the small fish can swim in their shoals, until they progresss to the shark pool!
Tables will look like small pools, and the playing cards will have various fish/ and sharks on the reverse.
And for the really bad callers each day, at a random time, a net will scoop you off the table and deposit you on a table, with other equally bad players