Well its good to be back playing online. Its been a tough few months with all the Ops ive had and meds i been taking.
So i decided to get back to playing online a couple of days ago as now i am on less meds i can concentrate on my game.
As most know i like playing cash tables online and the odd tournament now and again.
As its been a while since ive played at any great length i have just stuck to low buyin games $12 Tournies being my biggest buyin and mainly the $5 and $10 ring games.
What i have noticed is the games seem to be playing like they were a few years ago, everyone seems to be playing super loose and gambling a lot more. The problem with it is it can test your patience when they start hitting there miracle cards and busting you. Now this is ok on cash tables (as long as they dont hit and run). As we know we will get it back from them in the long run. But in tournaments it can test your patience i have bubbled a couple in the last few days to crazy suckouts and to players who just cant read the board and call no matter what. I am hoping i get to meet these players again in other tournaments as now know a lot more on how to aproach them.
I have played a few forum games and noticed a few more new names which is good but also noticed the games that i have played a lot of the regs were not there.
I must say it does seem very quiet in this forum and not much has happened since i had my 1st Op in March.
Anyhow hopefully see a few of you on the cash tables or Omaha tournaments in near future. I know there are many in here who are better at Tournaments than me so hit the O8 games as they are very weak what i have played last few days, just need the cards to hold up LOL.
Played about 3k cash table hands and again the play is not great so there is $s to be made there as well. I know its only a small sample of games ive played but what i have seen is more gamblers than when i was last playing.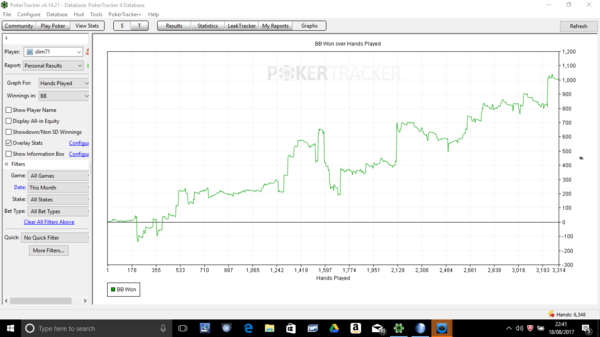 Few FT places in the omaha tournaments and i managed to T1D earlier, so im hoping to get a few more this month, am after the $12 buy in $500 1. Have not had much luck with the 1s i have played last few days but know if i can get my hands to hold up i can go on a deep run.
There are quite a few low buyin games to enter and know many of our forum regs can go on and win these, just watch a few of the games to see what hands turn up, you will be quite shocked. If i can win i know many in here can.
Good luck on the tables all, and see you soon.