The Crown Poker Room in Melbourne, Australia, was the venue where the newest champion of the Super Stack series was crowned this afternoon. Local player Quoc Nguyen defeated a field of 510 entrants to capture the Shane Warne Super Stack Main Event title, named in honour of Australian cricketing legend, and Team888 member, Shane Warne.
Day 2 of play started with 160 players returning to first burst the bubble for the top 45 players before surging on towards the final table.  Along the way there was plenty of carnage as the likes of Liam O'Rourke, Tom Wing, Josh Foster, Dale Marsland, Chris Whitmee and previous Shane Warne Super Stack champion Monica Huynh (pictured below with Dean Schneider) were among those to fall short of the money.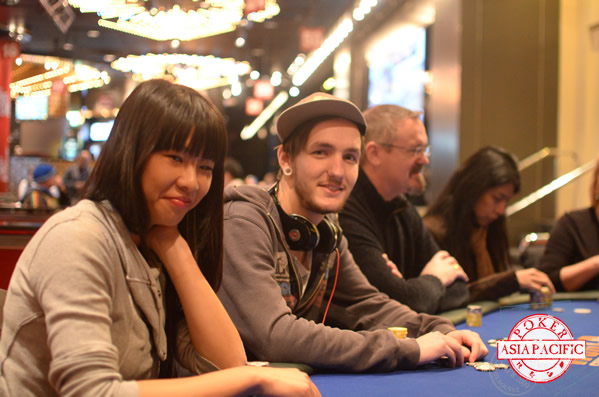 After the bubble popped, the players trickled to the cashier at a steady pace throughout the evening.  Mario Ljubicic (44th), Billy Seri (40th), Dale Chapman (35th), Nali Kaselias (34th), Lorriane Craig (32nd), defending champion Dean Schneider (27th), Vinh Tran (26th), Dean Blatt (21st) and Melanie Wohlers (19th) were some of the more notable players who went home with some profit for their efforts.
The key hand of the tournament actually unfolded on the final table bubble when Quoc Nguyen and Day 1a chip leader Sebastian Selvaggio collided on a flop of 5h-6d-Kh.  Nguyen looked dead and buried when he opened As-Kd for top pair, only to discover Selvaggio had flopped a set with his pocket fives.  The table then watched in shock as the 6h turn and Kc river completed the board to give Nguyen an unlikely bigger full house!

So surprising was the result, that Selvaggio didn't even realise as he went to shake the hand of his opponent, only to be told the bad news.  That hand was the difference between elimination and eventual victory for Nguyen. Selvaggio would end up falling in 9th place as Nguyen finished off the job with pocket kings against Selvaggio's ace-rag.
The leader at the start of the day was Michael Rinaldi, and his highlight of the day was the double elimination of Busra Kaluntakasuwun (7th) and David Atkins (8th) when Rinaldi's pocket aces held in a three-way all in. From there Rinaldi wasn't able to get much going, losing his spark and eventually blinding out in 5th place.
At that point, the four remaining players agreed to a deal, based on an ICM chop, with $4,000 spared for the eventual champion.
Andrew Kyle did well out of the deal as he lost a race with Ad-7c against Dale Townsend's pocket deuces to fall in 4th place as Townsend went on a heater to gain the chip lead. But a huge coinflip with ace-king against Sam Paisley's pocket tens saw Paisley flop a set to take control of the contest with a massive chip lead.
Townsend was eliminated moments later to see Paisley take a five-to-one chip advantage into heads-up play against Quoc Nguyen. However Nguyen quickly closed the gap with a double up, and then put pedal to the metal as he ramped up the aggression to gain the ascendency.
Paisley eventually made a stand with Ah-Th as Nguyen three-bet shoved pocket eights, but the board bricked out 6s-3h-kh-6d-5d to give Nguyen the title of Shane Warne Super Stack champion along with $21,800 in prize money.


Shane Warne Super Stack Final Table Results
1st Quoc Nguyen - $21,800*
2nd Sam Paisley - $17,500*
3rd Dale Townsend - $17,100*
4th Andrew Kyle - $16,100*
5th Michael Rinaldi - $6,000
6th Anthony Legg - $5,000
7th Busra Kaluntakasuwun - $4,000
8th David Atkins - $3,000
9th Sebastian Selvaggio - $2,500
10th Darryl Gassal - $2,100
* denotes four-handed deal
A complete list of prize winners can be found over in the Poker Asia Pacific forum.
Thanks to everyone who participated in the Shane Warne Super Stack and congratulations to our prize winners. We look forward to seeing you all back in the Crown Poker Room for the next Shane Warne Super Stack event in Melbourne in early November.